Anastasia Smith
Biography
Anastasia Smith is an experienced writer who has been writing for more than eight years. She has experienced writing in various genres such as romance, erotica, thrillers and suspense, horror, science fiction, fantasy to non-fiction. For erotica and romance genre, she's been writing in various genres ranging from BDSM, fetishes, billionaire romance, LGBT, vampire/werewolf/mythical romance and various other genres.
Don't forget to always check her author page to get more hot and racy short stories, novels and novellas to fulfill your daily dose of something sexy, steamy and exciting!
Books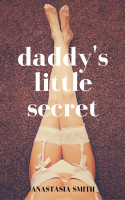 Daddy's Little Secret
by

Anastasia Smith
Cassandra Fleur's life turned into grief when her father died. But her life turned into pleasure and filled with lust after her mother decided to marry again .. Cassandra fell in love at first sight with her stepfather, James Anderson. Although Cassandra knew James would be her stepfather, she did not care about that. This is a story about forbidden love that filled with passion and lust.
Anastasia Smith's tag cloud