Elizabeth Arnott
Biography
Elizabeth Arnott has been an avid cook all her life. An enthusiastic traveller, she has discovered many fabulous tastes and flavours on her globetrotting journeys, bringing home a collection of both exotic and down-to-earth recipes. Working within the limits of Detox Maintenance Lifestyle guidelines, combining old favourites with innovation, she has gathered inspiring and healthful recipes for every occasion. Elizabeth lived in London until she moved to Mexico in 2000. She has incorporated Mexican dishes into her recipe collection and follows her Detox Maintenance programme with 100% success. People ask for her secret as to why she always looks so healthy and well. The answer is simple - regular exercise, avoid processed foods, eat organic, and keep to "Super-Foods" as much as you can. The occasional lapse into wicked treats won't hurt, but try to maintain the Detox Maintenance Lifestyle for your daily meals.
Where to find Elizabeth Arnott online
Books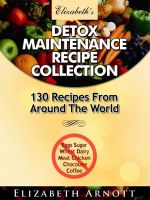 Detox Maintenance Recipe Collection - 130 Recipes From Around The World
by

Elizabeth Arnott
Detox Maintenance Lifestyle. Inspirational recipes for healthy eating, healthy weight loss, healthy living.
Elizabeth Arnott's tag cloud