Emily Israd
Biography
Hi, I'm Emily, and I love making things! This includes dreaming up stories about teenaged shapeshifters in Oklahoma. I work as a graphic designer during the day, and then I work on novels and digital paintings at night. (I take lots of breaks to cuddle my dog, though. Dog cuddles are key.) My current books include Murmur, The Raven Mocker, and Devil's Den. I love hearing about all the cool stuff you're doing, too, so don't be afraid to reach out to me here or at isradbooks at gmail dot com.
Where to find Emily Israd online
Books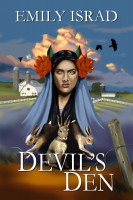 Devil's Den
by

Emily Israd
It's springtime in Jessup, Oklahoma. The days are warming up, Aunt Tulia has a new beau, and the church clothing drive is going strong. But when Hannah and the boys find a badly injured coyote shifter, it opens the door to a dark underworld and a nightmare straight out of Mexican legend. One thing is for sure: come high winds or holy water, no one's taking this town without a fight.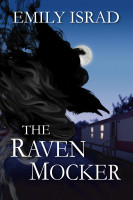 The Raven Mocker
by

Emily Israd
For Jack Corbin, winter means a long line of sick shapeshifters. But when one of his clients dies, the sixteen-year-old healer suspects more than the common flu. Meanwhile, a strange couple arrives in town, hearts go missing at the hospital, and Hannah Sterling is seeing a dark creature no one else can see. Jack and Hannah are growing closer, but are they strong enough to fight this new menace?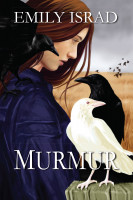 Murmur
by

Emily Israd
When sixteen-year-old Hannah Sterling stumbles into the murder of a shapeshifter, the tiny town of Jessup, Oklahoma is thrown into panic. Meanwhile, Hannah's own shifting powers are failing, and her classmate Jack Corbin may be drawing dark forces with his own unusual gift. Rumors fly, shapeshifters and motorcycle gangs collide, and it's a race to save Jessup from evil before it's too late.
Emily Israd's tag cloud