Emmett Watson
Biography
Emmett Watson was a fixture in Seattle journalism for more than half a century, first as a sports writer for the Seattle Star and then as a columnist for the Seattle Post-Intelligencer and the Seattle Times. Orphaned shortly after his birth in 1918, Watson was raised by John and Elizabeth Watson, of West Seattle. He initially pursued a career in baseball, but proved more successful describing games than playing them. He scored his first international scoop by revealing the suicide of author Ernest Hemingway in 1961, and later entertained generations with his pithy commentaries of Seattle's changing social landscape. A paladin with a pen, Watson stood for Lesser Seattle against Greater Seattle, and delighted in puncturing the pomposities of local Babbits and self-appointed civic Boosters. He died of post-surgical complications on May 11, 2001.
Where to buy in print
Books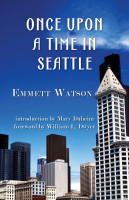 Once Upon a Time in Seattle
by

Emmett Watson
A collection of Emmett Watson's tales about his beloved city of Seattle. The more things change the more they stay the same; Past and Present seem little different in the city of Seattle.
Emmett Watson's tag cloud