Erga Granot-Ascher
Biography
Erga Granot-Ascher is a painter, artistic advisor and art teacher, married and mother of daughter and son. A resident returns from Australia, where she began to paint for a living and learn the secrets of exposure and marketing on the Internet. Erga paints for private and institutional clients and presents her works at exhibitions. She specializes in naïve, colorful and positive energy paintings, and in this way she teaches her students in high schools, as well as in classes, lectures and workshops, in which students from the age of five to the age of eighty-five participate. Erga has a master's degree in art education and guides teachers to combine art in projects based-learning. The book presents 12 techniques which she imparts in her workshops to experiential painting.
Where to find Erga Granot-Ascher online
Videos
Erga-Art
How do I draw & Eat
Books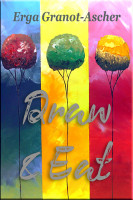 Draw & Eat
by

Erga Granot-Ascher
I highly recommend drawing. Even if you have never drew before, even if you are five years old or ninety-five years of age.
Erga Granot-Ascher's tag cloud