Eric Pollarine
Biography
Eric Pollarine is an author, freelance writer, book reviewer with flamesrising.com, and constantly disheveled musician who lives, works, writes, smokes and drinks far too much coffee in beautiful dreary Cleveland, Ohio. You can contact the author through Facebook, Twitter, foursquare, linkedIn and stay up to date with other goings on, through his website www.unlikelyconvergence.com.
Where to find Eric Pollarine online
Books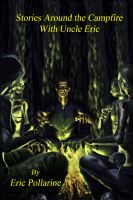 Stories Around the Campfire with Uncle Eric
Welcome to camp May December...we have an assortment of counselors handpicked to see to your every need. Meet Uncle Eric. Forgive his chain smoking, but he's seen some horrible things in his life. He has a seat saved for you at the campfire...but don't expect s'mores or roasted weinies. He has a sextuplet of twisted tales to share. Only...if he gets that far away, glazed over look...RUN!
Eric Pollarine's tag cloud