Erica Lomax Edwards
Biography
Erica Lomax Edwards is a Beaumont, TX native and a 2013 Fall graduate of the University of Phoenix. There she earned a Bachelor's Degree in Business Management. She is the wife of Milton Edwards Jr. She is a Woman of God who believes that all people have a pathway to travel, which is unique to every person. She believes people are placed on earth to carry out God's plan for their lives, which is a step-by-step discovery process. While on a portion of her journey, she discovered that God's plan is best for her. In-spite of the obstacles that present themselves before her, the overcoming power of the Lord Jesus Christ helps her to continue moving forward.
Books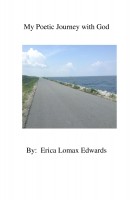 My Poetic Journey with God
by

Erica Lomax Edwards
Follow me as I tell of my journey with God through poetry. My story will take you from Loving and Achieving, to Hope and Faith, and finally Boldness and Courage. As you look through my eyes, envision yourself on your own personal journey. This book marks a change of direction for my life. Who knows!! It just may have the same affect on you. Examine your life as you travel with me. Let's Go!
Erica Lomax Edwards' tag cloud