Erik Walker
Biography
Erik D. Walker was born in 1971 in the suburbs of Seattle, WA. His family was a little bit on the hippy side and they enjoyed traveling around the Northwest to camp, fish and sightsee. During his teen years, Erik discovered a love for black and white photography and spent many hours a day in the darkroom that he and his father built in a corner of their workshop. While in his early twenties, Erik felt the mountains calling him and moved to the central Cascades to live in a tent, along the Stilliguamish River. There, he acquired a deep understanding of Mother Nature, while perfecting his campfire cooking skills. In 2001, he married his wife, Tina Monique in Las Vegas, NV. In 2004, they purchased ten acres outside of Tri-Cities, WA, near the Snake River. They named their land Walkers Ranch, and have transformed it from nothing but tumbleweeds and dust devils into a beautiful oasis in the desert. That is where they still reside, with their many animals, and where Erik writes his books. You can always find them at www.walkersranch.com.
Where to find Erik Walker online
Books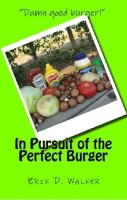 In Pursuit of the Perfect Burger
by

Erik Walker
Learn how to create the best burger ever in the history of the world -- no exaggeration! Frozen hamburger patties will never be good enough again.
Erik Walker's tag cloud