Peter Bolton
Biography
In my youth, I was plagued by certain autistic traits that made my life a misery and my schooldays the worst days of my life. Fortunately, I had an excellent family upbringing and I also found consolation in music and the countryside. My career was equally undistinguished – I worked throughout for firms of chartered accountants. I chose this course specifically because I would meet people.
The person who saved me from myself was my wife, Viv. Together, we have raised two sons and I was given a purpose in life. Although my head was always full of ideas, I didn't think it possible to write them down – one of my characters has graphophobia. It wasn't until 1999, at the age of 57, that I attempted to create a novel.
Like other novelists, I do write from a personal perspective. If everyone wrote in the same way, literature would become very dull. My quirky fantasy world doesn't appeal to Viv, so it isn't for everybody. The Ferry Girl was my fourth novel. Now I've completed nine and I'm working on another. How I'll get on with this I don't know, as I've given myself a lot of revising to do. I've also written a series of five children's books.
Books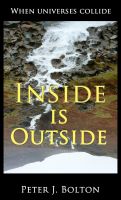 Inside is Outside
by

Peter Bolton
Autistic Lotte Shoebuckle lives in a universe with its own dimensions . After a long and difficult life, her world is growing closer to ours and from it she witnesses murder. Shelley Kavanagh is a prostitute, the target of a serial killer. Handsome Royd Finch longs for her but she is Lotte's point of impact. There is going to be a collision of universes but which of them will come out of it alive?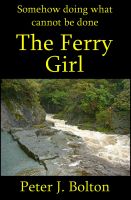 The Ferry Girl
by

Peter Bolton
A disruptive and unacademic adolescent, Tansy Helliwell, finds herself called upon to remedy grief after her sister's best friend, Marie, is drowned on a school trip. She calls herself the ferry girl but finds herself with more and more passengers. Tansy works on a garden of remembrance but her muddled actions break up her family, produce a new Marie and take her into mortal danger.
Peter Bolton's tag cloud