Evelyn Klahre Anderson
Biography
Evelyn Anderson's nature articles and photographs have been extensively published in magazines over the years. In 1984 she became a columnist for the Erie Morning News, then the Erie Times-News, writing a weekly feature called "Nature's Way," that with her color photography, ran for thirty-five years. Also in 1977, she began writing the "Nature Watch," a weekly summary of bird and flower observations made at Presque Isle State Park and surrounding areas, that ran in those Erie newspapers and was, in part, published in book form in 1995.
Where to buy in print
Books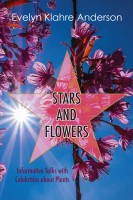 Stars and Flowers
by

Evelyn Klahre Anderson
During her many years as an outdoors columnist in the '80s and '90s, Evelyn Klahre Anderson spoke to political figures, Broadway stars, famous scientists, astronauts, recording artists, network newsmen, environmentalists, comedians, and even former presidents and their wives in her quest to learn the impact that plants and flowers had on the lives of these larger than life personalities.
Evelyn Klahre Anderson's tag cloud