Evelyn Raiken Lewis
Biography
Evelyn Lewis is a certified institutional review board professional. Through her work, she was introduced to current research in brain science and language acquisition. By applying this research to her experience as a parent and math tutor, she came to understand why so many children can't seem to learn math, even though they had no trouble learning their native language, whose rules, or algorithms, are much more complex. It only took twenty five years to put this together. Time well spent.
Books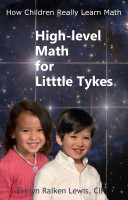 High-level Math for Little Tykes
by

Evelyn Raiken Lewis
The baby's brain is a curious thing. It is genetically engineered to decode any language, so that in a few years, children can understand most conversations they hear. If they hear the language of math, they learn the language of math. It's that simple. This guide advocates for teaching the vocabulary and concepts of math in the critical time to learn language--zero to seven.
Evelyn Raiken Lewis' tag cloud