Sam Lann
Biography
Born back in the '60s and missed all the fun. Too late for tie-dyes, too early to Disco. The missed generation between Boomers and Gen-X. Closet ABBA lover. Out of the closet Stephen King fan when the dome came down. Grew up in local and school libraries while collecting a hundred weight in comics. Took a 2001 odyssey and discovered SF and strangers in strange lands until something this way wicked came and got lost in Anhk-Morpork. Occasionally eccentric, often eclectic and esoteric. Still growing up. Fond of, what wiki calls, Romance: a literary genre of high culture, romance or chivalric romance is a style of prose and verse narrative that was popular in the aristocratic circles of High Medieval and Early Modern Europe. They were fantastic stories about marvel-filled adventures, often of a knight errant portrayed as having heroic qualities, who goes on a quest, yet it is "the emphasis on heterosexual love and courtly manners distinguishes it from the chanson de geste and other kinds of epic, in which masculine military heroism predominates."[1] Popular literature also drew on themes of romance, but with ironic, satiric or burlesque intent. Romances reworked legends, fairy tales, and history to suit the readers' and hearers' tastes, but by c.1600 they were out of fashion, and Miguel de Cervantes famously satirised them in his novel Don Quixote. Still, the modern image of "medieval" is more influenced by the romance than by any other medieval genre, and the word medieval evokes knights, distressed damsels, dragons, and other romantic tropes.[2]
Where to find Sam Lann online
Books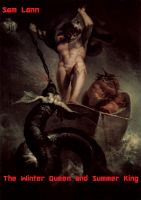 The Winter Queen and Summer King
A future romance. A story told in two parts. Of love lost and found and the struggle to safeguard the destiny of Mankind. Can one man affect the destiny of all?
Sam Lann's tag cloud