Flint Reginald
Biography
The Author: Flint Reginald.

Flint resides in the UK, with his wife. She recently gave him over into indentured servitude to two cats Bandit (in the picture, the one on the right) and Rumour (pic on my amazon page). When he is not attending to his new cat masters' needs, he writes fiction stories or reads some. The cats don't appear to care what he writes about; they just like the noise of him typing and as far as he can tell, they cannot read. Flint is thankful to all the people in the world that made computer technology an affordable reality for everyone, without it none of his stories would ever have been told (written).
Books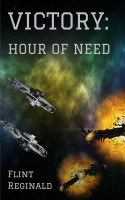 Victory: Hour of Need
by

Flint Reginald
Will our heroes of the past joining forces with the heroes of Legend be enough, A grittier tale, containing moments of prolonged tension, with our heroes encountering scary alien evil...will they prevail.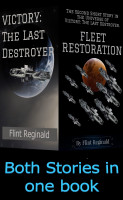 Victory:The Last Destroyer
by

Flint Reginald
The war. It was all but forgotten. Yet some had been secretly tasked, they had tirelessly worked from the shadows for generations. They had refused to accept undeserved defeat…now was the time. Armed with secret historical knowledge, access to a relic of the distant past could change everything… After war, the victors write the history… A short science-fiction story, suitable for all ages.
Flint Reginald's tag cloud