Scott Archer Jones
Biography
Scott Archer Jones is currently living and working on his sixth novel in northern New Mexico, after stints in the Netherlands, Scotland and Norway plus less exotic locations. He's worked for a power company, grocers, a lumberyard, an energy company (for a very long time), and a winery. He has launched three books. Jupiter and Gilgamesh, a Novel of Sumeria and Texas in 2014, The Big Wheel in 2015, and this one, a rising tide of people swept away.
Where to find Scott Archer Jones online
Where to buy in print
Books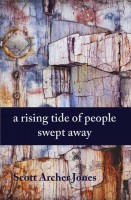 A Rising Tide Of People Swept Away
by

Scott Archer Jones
A small boy flees a toxic family, all the way across the alley to Rip's Bar & Package Liquor Store and a vivid troupe of broken people in the Albuquerque Bosque. The boy gladly trades family for a hodgepodge of drinkers and losers. They collect misery like small change and rally to keep their neighborhood alive. Will the working poor beat City Hall and keep the kid out of the system?