Donald Roy
Biography
Donald Roy was born seventh of eight children in a bustling family home on the outskirts of Toronto, and tucked into science fiction and fantasy novels from an early age, reading Tolkien and Asimov, Bradley and Brin, falling fully into worlds filled with meadow or metal with equal ease.
After fifteen years working for a software firm, he moved to a small community on Vancouver Island with his wife, into a house overlooking a small bay, mountains, and forests, and he started to write; an ambition he had since he first stood in front of a keyboard. One by one, the creatures of the bay visited him and gave him inspiration, sometimes begrudgingly, sometimes with a wink. The stories that came from those visits are theirs as much as they are his.
Books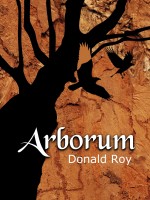 Arborum
by

Donald Roy
Price:
$2.99 USD.
Words: 151,370.
Language: American English.
Published: August 16, 2015
. Categories:
Fiction
»
Fantasy
»
General
Phyllis Finn was rooted in two worlds. Her father connected her to the mechanical revolution sweeping Southern Argonia; her mother connected her to the untamed lands of the North. When the king hustled her family into the northern wilderness, she began to learn the true history of the world she lived in, that not all fairy tales were fiction, and not all wars were fought by men.
Donald Roy's tag cloud