Faith Escoe
Biography
Faith Escoe started off as a theatre student and spent most of her time enjoying the theatre and working as a stagehand. She enjoyed telling stories of all kinds and grew fascinated with the way it felt when the audience enjoyed the show. She enjoyed the time she spent with her cast and crew. But before that, she found that she was dyslexic, and that was one of the major reasons she never did well in school. She was better as a creative student, though, whether it was theatre, dance, singing, or writing. Compared to her schoolwork she seemed to excel better in the arts. But it would take many years for her to find a medium that she could use and was fond of. As she became more of an advent reader, she began to enjoy writing more and more. Before long that became her goal she wanted to be an author and write books like the ones she enjoyed.
Where to find Faith Escoe online
Books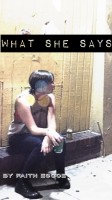 What She Says
by

Faith Escoe
What She Says is a collection of four short stories by Faith Escoe. The pieces are called I Wish I Could Miss You, My Police Statement, Daddy, Don't Go to Sleep, and lastly, Nice to Meet You. These books are all from a girls point of view and how they deal with emotional situations. And how every girl reacts differently.
Faith Escoe's tag cloud