Faiz Versey
Biography
FAIZ VERSEY, CPA, CA, CIM, FCSI, FCA, RFC® is a Chartered Accountant and personal finance expert. He started his career in financial services in 1989 after he graduated with a B.Comm from the University of Toronto. He has devoted twenty-five years to financial services, including seven as an auditor and one and a half decades as a financial intermediary. He now teaches people about matters of personal finance so that they can acquire and retain financial independence.
Books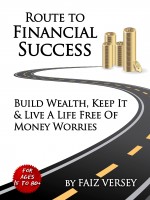 Route to Financial Success: Build Wealth, Keep It and Live a Life Free of Money Worries
by

Faiz Versey
This is a book for everyone who wants to become financially independent: teens, new graduates, pre-retirees, retirees—even professionals and celebrities. Faiz Versey brings together his knowledge of financial planning, real-life wealth strategies of the rich, and the steps that made him a self-made "half-millionaire" to reveal recipes for financial success that work.
Faiz Versey's tag cloud