Fallen Sunz
Biography
My name is Fallen Sunz, and I have been writing books for 2 years. Mystical Themes, Magical Dreams is the 1st part in a series. As well as this book I also write adult books and a vast range of poetry.

I am 36 years old on 21st April and would like to become a professional poet/writer one day in the near future. My family is from Mauritius, but I was born in the United Kingdom.

I'm the 2nd of three brothers, and I live with my parents still as I have multiple disabilities and mental health problems. Although saying that, I am highly intelligent and very stable.

Look out for Fallen Sunz in the future!
Books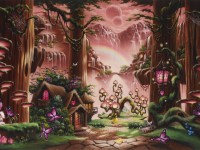 Mystical Themes, Magical Dreams
by

Fallen Sunz
A beautiful fantasy book about bullying. A young boy travels through dreams and finds great friends and has wonderfui adventures - learning about his strengths and allowing him to overcome bullying. An epic tale full of fun, sorcery, dragons, fairies, witches and a myriad of characters and creatures, amazing lands and a wholly wonderful read! Enjoy!
Fallen Sunz's tag cloud