Farid A. Chouery
Biography
Farid Alexandre Chouery was born in February 2nd 1951 in Cairo Egypt. He completed his high school in a Greek Catholic Melkite School (College Patriarchal) in Cairo in 1967 where he learned French and Arabic and left to Lebanon in 1968. He obtained a Christian refugee status through the Roman Catholic Mission and the US Embassy in Beirut and landed in Seattle Washington in October 1969. He went to Seattle Central Community College and obtained a transfer degree to the University of Washington in 1972. In 1974 He graduated with a Bachelor of Science in Electrical Engineering BSEE from the University of Washington. In 1975 Farid became a US citizen with his parents and siblings. In 1978 he married Bernice Joan Furdal and in 1979 he obtained a master degree in electrical engineering MSEE from the University of Washington. In 1979 he had a call from the Holy Spirit to write a meditation book. Farid start to work on the book and he graduated from the University of Washington in 1984 with a master degree in engineering MSE branch civil and structural. Farid is a licensed structural and professional engineer in the state of Washington, in the branch of electrical, structural and civil. In 1987 Farid obtained a patent in computers and in 1993 Farid studied computer science C/C++ programming from the University of Washington Extension Program. Farid is Fluent in French, English and Arabic. He Studied Psychology in 2004 where he became NeuroTherapy Specialist and Clinical Hypnotherapy Certificate from the North American Institute of NeuroTherapy 9 month training 150 hours study. He became Registered Councilor in the State of Washington (2004-2010) and currently Certified Councilor in the State of Washington (2010-present) issue date 8/11/2010. He published the first release (3rd Ed) of the meditation book and CD in 2006. In September 2010 to May 2011, Farid studied one year 72 hours course on Spiritual Direction at St Placid Priory, Lacey, WA. In September, 2011 to May 2012, he studied 78 hour class on Christian Meditations, Certificate on Tending the Fire, From St Placid Priory, Lacey, WA. In April 2012 he published the second release (7th ed) of the meditation book in Smashwords web publishing. In January, 2014 he studied 30 hours of Medical Meditation and Stress Management by Peachtree Professional Education. In May 2015 he published the thirds release (8th Ed) of the meditation book in Smashwords web publishing. On Valentine day February 14, 2016 the forth release (9th ed) was published in Smashwords and adding the second law of physics proving the existence of God. On August 28, 2016 the fifth release (10th ed) was published in Smashwords reminder about miracles. So The meditation book became dynamic as the Holy Spirit provides more information new release is provided. Farid, also, is a musician he has been playing guitar since he was 16 years old and have composed two 15 minute symphony and wrote music and lyrics for several songs. Farid obtained six patents in computers algorithm, electro-mechanical device and retaining wall in structural. Farid and Bernice have a daughter named Alexis born in Seattle.
Where to find Farid A. Chouery online
Books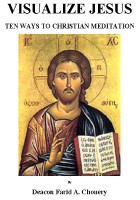 Visualize Jesus : Ten Ways to Christian Meditation
by

Farid A. Chouery
VISUALIZE JESUS: TEN WAYS TO CHRISTIAN MEDITATION is a practical guide for seekers to improve and expand their experience of meditation and contemplative prayer. Three ways to meditate in the right hemisphere of the brain include: Light, Medium and Deep meditations. As most experts says the world is a left hemisphere or verbal. Expand to pray with all your brain, God will surprise you.
Farid A. Chouery's tag cloud