Fenriswulf Books
Publisher info
Fenriswulf Books was founded in 2008 by UK writer and illustrator Chaz Wood. Since then, they have produced a number of works of graphic fiction and prose in print and in digital format. Major releases include the 'Trinity Chronicles', a series of dark contemporary religious themed-thrillers: 'Maranatha' and 'Venus in Saturn'. Also, 'The Sword and the Ring', an ambitious graphic re-telling of the 'Ring Cycle', 'The Black Flag', a dystopian graphic novel and 'Malaria 9', a quirky cyberpunk action horror.
Where to find Fenriswulf Books online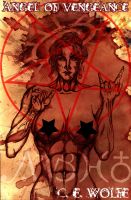 Angel of Vengeance
by

C. E. Wolfe
(5.00)
Fallen angels, exiled demons, and the wrath of heaven and hell converge in blood, violence and twisted humour in modern-day Europe. Adult fantasy with a dark edge.
Fenriswulf Books' tag cloud