John Harrison
Biography
John Harrison lives in the semi-tropical city of Brisbane, Australia. For more than thirty years, he played principal bass clarinet in the Queensland Symphony Orchestra based in that city. His career as a professional musician did not take up all his time however; he was able to establish himself as an author/illustrator of children's books.
John resigned from the orchestra in 2005 and since then has spent half of each year in Berlin, working as a freelance illustrator and producing graphic artwork for the Berlin Philharmonic Orchestra.
Books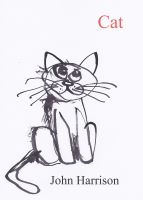 Cat
by

John Harrison
(4.00)
A little book of whimsy, a very quick read indeed.
John Harrison's tag cloud