Fernando Maino
Biography
Fernando Maino es un Ingeniero argentino retirado que fue profesor ayudante de cátedra en la Facultad de Ingeniería UNL de la Ciudad de Rosario, Argentina, Se desempeñó como coordinador de contratos de obras industriales en Suecia, Brasil; y en Dusseldorf Alemania, para la ingeniería básica de obra a construir en Argentina.
Se despeñó como perito de oficio en el poder Judicial Nacional en lo Civil.

Fernando Maino is a retired engineer; he used to be an assistant professor to the chair at the Engineering School of the UNL (Universidad Nacional del Litoral) in the city of Rosario, Argentina. He also worked as a contract coordinator of industrial works in Sweden, Brazil, and in Dusseldorf Germany, on the basic engineering of a work to be built in Argentina.
Mister Maino also acted as court-appointed engineer at the National Judiciary on Civil Cases.
Books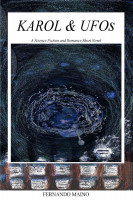 Karol & Ufos
by

Fernando Maino
Karol and UFOs is a science fiction and romance short novel about a mannequin and several characters, among them: Robert, a handsome lawyer, expert in the stock market, that is hired by an Investment Company in Buenos Aires In Buenos Aires, Robert falls in love with an attractive mannequin that he sees in the shop window of an elegant store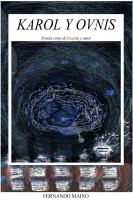 Karol y Ovnis
by

Fernando Maino
Karol y Ovnis es una novela corta de ficción y amor que gira alrededor de una maniquí y varios personajes, entre ellos Robert un apuesto abogado experto en valores de bolsa que es contratado por una empresa de Inversiones de Buenos Aires y se despide en el aeropuerto de sus amigos Juan y Martin; y de Elba una hermosa joven con la que compartía salidas. Robert, en Buenos Aires, se enamora de una at
Fernando Maino's tag cloud