Fifth Column Press
Publisher info
FIFTH COLUMN PRESS: Producing quality eBooks and paperbacks since 2006

DEFINITION: [Noun] - Historically, a 'fifth column' is a group of people or an entity whose activities serve to clandestinely undermine a larger group such as a nation state or, in this case, the traditional heavy-hitters of the publishing industry. A fifth column also euphemistically refers to the fifth but nonexistent column in a newspaper.

ABOUT US: In this new, fast-changing world of publishing, a single year is like a decade for all the remarkable changes and upheaval it can bring. Over these *virtual* decades we've forged a name for ourselves as producers and promoters of unique and award-winning literature, highlighting a variety of genres. From Romance to Finance you'll find all kinds of subjects and categories on our virtual bookshelves, some titles even available to download for FREE:

We're FIFTH COLUMN PRESS and we're excited to be publishing with Smashwords.com. Whether you're an individual reader or a bookseller, we THANK YOU for choosing our titles from this distribution point. From time to time, we'll be adding additional Indie authors to our Smashwords stable. You'll also find a constant flow of freebies and specials streaming in and out of our store on a fairly regular basis, so we hope that you'll keep an eye on us and come back again to check out what's new and what's FREE in our storefront.

Again, thank you for visiting us on Smashwords.com and for choosing our e-books today! If you have any questions or comments please feel free to send them on to us at FifthColumnPress@gmail.com

Column Five
.

May 26th 2011 - PUBLISHER'S NOTE: Sometimes Smashwords *regrinds* titles without notice and, as a result, some eBooks on its site which were otherwise perfectly multi-formatted become wonky -- if you discover that this has happened to any of our own titles please contact us right away at FifthColumnPress@gmail.com!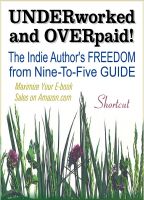 UNDERWORKED & OVERPAID! The Indie Author's Freedom from Nine-to-Five Guide
by

Kindle Joe for FREE PRESS
(4.00)
MAXIMIZE YOUR E-BOOK SALES--WITHOUT SPENDING A DIME! From the creators of the popular Kindle publishing Shortcut "OUT STANDING IN THE FIELD: The Indie Author's Two-Step Guide to Publishing in Amazon's Kindle Store" (Click the link on this book's detail page to find it.)
Fifth Column Press' tag cloud