Finkelstein A.J.
"The Ravens, a revered brotherhood of highly skilled fighters, are called upon to solve the mysterious death of an important political figure of Attylan, Siver Magrey.
To Blane and his student, what should be an open and shut case, quickly turns into a whirlwind of carefully constructed traps, trials and puzzles leading to the discovery of a far more sinister and twisted plot.
When Blane discovers his close childhood friend Sintor has been seen conspiring with Siver's son Hysteron Magrey, it leaves him no option but to probe deeper. Immediately assuming the worst, Blane reminisces about how his friend was exiled from the Ravens, and questions his involvement in the case.
Blane's student Daigon is on the verge of independence. After several years of training, he constantly struggles between following his head and his heart. His feelings intensify as he is seduced by the charismatic
Kylima Magrey. When both her innocent charm and beautiful looks cloud his mind, it begins to blur the line between fact and fiction.
Each clue leads them to the next, but all are only fragments of the truth. The Ravens, must battle their way through the riddles and sorcery if they are to find the answers and save Attylan.
"The co-authors are adamant about conveying the fact that this is not a typical novel it reads as easy as watching a movie whilst maintaining the necessary detail elements. It was intentionally written this way, both for seasoned readers and people who had never picked up a book before.
Although being a fantasy book the story line revolves around a classic crime novel. The novel is also packed with plenty of action but it was made so without compromising its ability to be read by most ages.
To further engage the readers the riddles and codes in the book are all interactive and can be solved if the readers choose. It was written to bridge the gap between children's and adult fantasy. It has a complex storyline that is guaranteed to keep the readers guessing but without confusing them.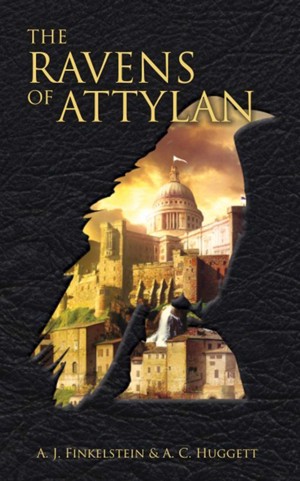 The Ravens of Attylan
by

Finkelstein A.J.
"The Ravens, a revered brotherhood of highly skilled fighters, are called upon to solve the mysterious death of an important political figure of Attylan, Siver Magrey. To Blane and his student, what should be an open and shut case, quickly turns into a whirlwind of carefully constructed traps, trials and puzzles leading to the discovery of a far more sinister and twisted plot. When Blane discovers