Andrew Bell
Biography
Canadian writer and author, Andrew Bell was born and bred in the shadows of the Rocky Mountains. His strong and active imagination has resulted in the trilogy – Flight of Man – novels of life and challenges on Mars. The Eden Soldiers, the first book in the series, is set in the year 2251. With writing now occupying his life, he continues to live in Alberta with wife Kristine.
Where to buy in print
Books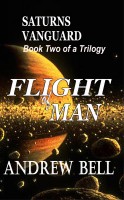 Flight of MAN... Book Two: Saturn's Vanguard
by

Andrew Bell
The sun, Sol, protected mankind for thousands of years and the solar system for millions before that. It was prophesied the Earth would end in 2191. Who knew thirty five years later that prophecy would come true! On that day, Sol reached out to save what planets it could from an attack beyond our imagination. Science Fiction at its Best!
Flight of Man - The EDEN SOLDIERS - Book One of a Trilogy
by

Andrew Bell
(4.00)
The sun, Sol, protected mankind for thousands of years and the solar system for millions before that. It was prophesied the Earth would end in 2191 and thirty five years later that prophecy would come true! The Flight of Man... to Mars. A tale of spirit, determination and the challenges of
Andrew Bell's tag cloud