Flip van der Merwe
Biography
Flip van der Merwe was a miner, a policeman, and an unsuccessful student, before finally receiving a BA in Bible-Theology from the International Correspondence Institute in Brussels, Belgium in 1983. He has since worked in missions and Christian music and radio, and still do a weekly show on a local community radio station. He discovered Christian music in 1975 and has worked hard to promote it in any way possible, finally accepting a job in the industry in 1997. He has a lot of stories and other writings trying to get out of his head, and hope to publish them one day... He lives in Centurion, South Africa, with his wife, daughter, three small dogs and two koi fish. He cuts his remaining hair to #1 length, and has lost his ear-ring.
Where to find Flip van der Merwe online
Books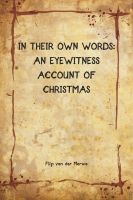 In Their Own Words: An Eyewitness Account Of Christmas
by

Flip van der Merwe
(4.50)
Just imagine...What would happen if we could go back to that first Christmas, and have the characters tell their own stories? "In Their Own Words: An Eyewitness Account of Christmas" takes you back to that long-ago night, and the people who were there. Meet the characters everybody knows and also a few unknowns like Mary's father, the innkeeper, and the little boy with no name.
Flip van der Merwe's tag cloud