Lilian Gafni
Biography
Lilian Gafni writes with passion about the experiences of displaced Jewish populations because she experienced it herself. Born in Cairo, Egypt, she attended the non-denominational French Catholic School, St. Vincent de Paul. Jews had lived peacefully for centuries in Egypt; however, a dangerous current began coursing through the city that threatened the lives of Jews. Her parents moved the family in 1951 to the newly formed Jewish country of Israel, where they hoped to raise their children in peace and safety. As have many Jews before her, Lilian had to adapt to a new life, a new country, and a new language. She served in the requisite two years in the Israel Defense Forces, which sent her to guard a Kibbutz (collective farm) in the region of the Negev. There she met American-born Joel, who later became her husband. After their marriage, they moved to the United States to his home state of California, where they raised their two children. Lilian is the author of the Flower from Castile Trilogy, Hello Exile, and Living a Blissful Marriage: 24 Steps to Happiness.
Where to find Lilian Gafni online
Series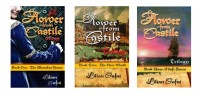 Flower from Castile
by

Lilian Gafni
In Flower from Castile Trilogy, Isabella Obrigon lives a life of privilege in Seville and about to be married to her fiancée Juan Escobar de Santilla. Her parents who adore her grant every one of her wishes. From this life of luxury and want for nothing she is kidnapped and forced to flee for her life. When a secret is revealed to her she becomes torn between her previous life and the new one imposed upon her.
Books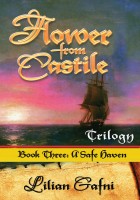 A Safe Haven
by

Lilian Gafni
Isabella continues her search for Miguel, despite the truth that he has met his death on the pirate ship. Columbus's promise to find gold in large quantities for the Spanish crown has become elusive, sifting as sand through his fingers. The refugees from Castile's forced exile are now faced with a new threat—Portugal has promised the Spaniard Monarchs to expel all non-Christians from their lands.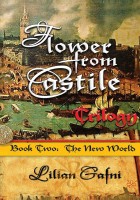 The New World
by

Lilian Gafni
The year 1493 ushers in a New World, and Columbus is on a voyage with the Santa Maria, the Pinta, and the Niña to reach the Indies by sailing west. João Treves, one of his sailors, blackmails Columbus—threatening to reveal a secret that could ruin him—compelling Columbus to stow away Conversos on his next voyage. When the journey stretches longer than their food stores, the crew becomes fearful.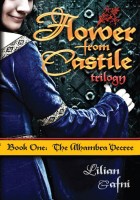 The Alhambra Decree
by

Lilian Gafni
The year is 1491, and sixteen-year-old Isabella Obrigon is kidnapped from her privileged life. When told she isn't of Spanish noble blood, but rather the child of a Jewish woman who died in childbirth, Isabella becomes personally embroiled in the terror of the Inquisition. She finds herself imprisoned in the famed fortress of Alhambra, where she encounters the mysterious Miguel Costa.
Lilian Gafni's tag cloud