Floyd Perez
Biography
About the Author

Mr. Perez earned his degree in Electrical Engineering from Texas A&I University and started his career in the oil industry where he maintained and operated oil well logging equipment. In the early 1960s, electronic technology was based on vacuum tubes which were soon replaced by transistor technology and soon after that integrated circuits started to dominate. Mr. Perez started his electronics design career when integrated circuits were in their infancy. After about three years experience designing instrumentation related to the oil field, Mr. Perez joined the NASA contractor team at Johnson Space Center (JSC) in Houston, Texas. Starting in 1967, he was involved with design, development and implementation of ground support instrumentation for the Mission Control Center (MCC). One of the first project assignments was the design of ground support equipment for ALSEP which is an acronym for Apollo Lunar Surface Experiment Package. One of the main objectives of ALSEP was to collect seismic data from the surface of the moon and transmit the data to MCC for analysis. Mr. Perez designed the equipment to receive the seismic data in digital form, convert it to analog, and distribute the analog data to strip chart recorders throughout the MCC for Principal Investigators to study and analyze. During the next 27 years, Mr. Perez was involved in the design and implementation many other ground support projects to include support for such missions as the Apollo-Soyuz docking, Skylab, and later the Space Shuttle.
While working in the space program at JSC, Mr. Perez also found time to read and study various metaphysical philosophies. Mr. Perez believes that many of the long standing and nagging questions of life, mind, the Soul, and God can be answered through the study of metaphysics. The study of metaphysics was treated as a personal hobby from which much pleasure and joy was gained. Mr. Perez believes that his work in the space program was also beneficial to his own personal and spiritual development since exploration of our earth and of space is synonymous with learning about Mother Nature and Mother Nature is an important aspect of God. He believes that science and spirituality are aspects of each other.
Books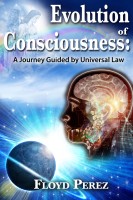 Evolution of Consciousness: A Journey Guided by Universal Law
by

Floyd Perez
Consciousness is an ever evolving, developing, and growing part of the human being. Mother Nature has a system set in place (called Universal Laws) that guides this development. This book explains the process of evolutionary development by combining portions of modern science with metaphysics.
Floyd Perez's tag cloud