Travis Flynn
Biography
I am the author of the young adult novellas Ghost Tales and A Pixie Called Pudding, as well as the follow up novel, A Pixie Called Pudding: The Siren's Song.

I grew up in Sioux City, Iowa and continue to live there to this day. I obtained a bachelor's degree in Chemistry from Briar Cliff University in 2008 and a master's degree in Management Information Systems from Bellevue University in 2010. So, if you're wondering why many of my characters have an interest in science and technology, wonder no more!

When I'm not writing, I'm a fan of biking, skiing (when I'm not in Iowa, anyway), and have been known to love sci-fi television and video games a bit too much.

To anyone who has read any of my stories, you have my sincerest thanks. I appreciate that you took time out of your day (and perhaps money out of your wallet) to spend with me and the odd people that I dream up. Thanks again, and stay tuned for more!
Books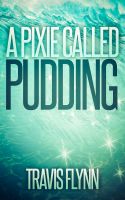 A Pixie Called Pudding (Book 1)
by

Travis Flynn
While trying to launch her newest invention, a cheerful pixie named Pudding inadvertently plays a role in one of history's greatest myths.
Travis Flynn's tag cloud