Fortress Publishing, Inc
Publisher info
Fortress Publishing, Inc. presents the unholy dichotomy between the blistering writing style of Brian Koscienski, who resembles Sasquatch with mange, and the dynamic gothic world of Chris Pisano, the last known Cro-Magnon man. When angry villagers wielding torches and pitchforks aren't chasing them, Brian and Chris make the world a better place through stories, novels, two magazine lines, and even bawdy haiku. Join these two in their latest comedy, "Scary Tales of Scariness," a book in which they write themselves in as characters of horror stories. This book will change your life – they're just not sure how…
Where to find Fortress Publishing, Inc online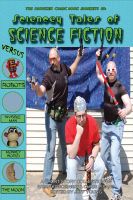 Sciencey Tales of Science Fiction
by

Brian Koscienski & Chris Pisano
Gravity! Centrifugal force! Boiling Water! See these complex scientific phenomena confuse writers Brian Koscienski and Chris Pisano as they traipse through 12 feature length scifi stories. They argue with talking grapes, confound mad scientists, even get shrunken! What will happen when they act as Earth's ambassadors to an alien life form? Whatever the outcome, hilarity and mayhem are guaranteed!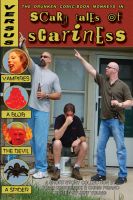 Scary Tales of Scariness
by

Brian Koscienski & Chris Pisano
(3.00)
Vampires, werewolves, zombies! Join writers Brian Koscienski & Chris Pisano as they face creepy creatures and mad monsters, stumbling their way through 15 comedic tales of horror & suspense. They match wits with the devil, go toe-to-toe with a slasher, even fight a spider! Will they save the world? Or simply make monkeys of themselves? Whatever their fate, they do it all without dropping a beer...
Fortress Publishing, Inc's tag cloud