Gunther January
Born and raised in Burbank, California. Won Second Place Junior State Award and Third Place Senior State award for model automobiles designed and constructed for the Fisher Body Craftsman's Guild competition.
Worked for two summers at the Rocketdyne Santa Susana test facility just west of Chatsworth; the first as a "C" Mechanic and the second as Analyst for Atlas Engine Test Stand Coca 2.
Received Bachelor of Science degree, with honors, in Mechanical Engineering and Master of Science Degree in Jet and Rocket Propulsion Engineering from the California Institute of Technology, Pasadena, California. Was a Three-year Letterman in varsity football (offensive and defensive end) and in varsity baseball (3rd baseman). Caltech varsity football team ranked second in the Southern California Interscholastic Athletic Conference in his sophomore year.
Garnered over a dozen first place trophies in time trial and autocross competition with his race-modified Porsche Speedster. Served as Activities Chairman of the Porsche Owners Club.
Upon graduating, he accepted an engineering position at the CIT Jet Propulsion Laboratory (JPL). Made two trips to Cape Canaveral as Cognizant Engineer, Propulsion System; one for the Venus fly-by mission of Mariner II and the other for the Mars fly-by mission of Mariner IV spacecraft. Met and married his true love while both were employed at JPL. They have two very successful adult sons.
From Assistant Chief Engineer, he went to manage a "job shop", discovering a God-given love for sales. Was in Sales Engineering for most of his work life, ascending to Regional Sales Manager while in his middle thirties. For fifteen years his avocation was farming a peach and apple orchard, with his wife, part of the twelve acres with a lovely two-story house that they purchased in the rolling hill country west of Fort Worth, Texas. This experience gives him authentic empathy with farmers in their arduous, never-ending labor, their hopes, and their discouragements.
Besides his mastery of the American Language, speaks two languages and one dialect: Spanish (castellano), slowly; High German (Hochdeutch), with a limited vocabulary; Swabian (Schwaebish), naturally. Has a copyright from the United States Library of Congress for his translation of the New Testament from Koine Greek into the American Language entitled ALMOST GREEK. His hobbies are playing tennis and contract bridge. He has spent four years singing (bass) in The Thoroughbred (Barbershop Harmony Society) Chorus in Louisville, Kentucky.
PRESIDENTIAL is his second novel, it having taken precedence over his first novel, THE TRADER (incomplete), due to the current, critical, political situation.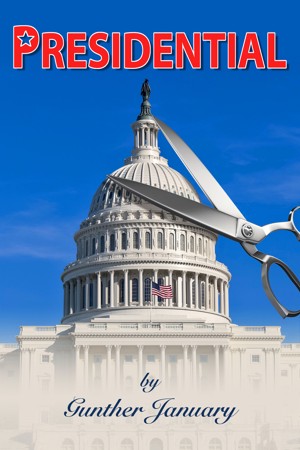 Presidential
by

Gunther January
Price:
$2.99

USD.
(
Free
!)
Words: 83,010.
Language: American English.
Published: September 18, 2012
. Categories:
Fiction
»
Historical
»
USA
You have just been sworn in as POTUS. Both Houses of Congress have majorities of the opposing party. You have 100 days to resurrect economic growth from the extant dismal malaise. You are resigned to one term in office. How will you begin? Following the lead of FDR and using the model of Reagan, Richard Sage mobilizes the citizenry to pressure every congressman to support needed legislation.