Frances Mason
Biography
Frances Mason is a resident of sunny Australia (consequently is too much i' the sun), loves great literature, especially Chaucer, Shakespeare, Jane Austen, Dawn Powell and Iris Murdoch, and is currently developing ideas for a novel set in Elizabethan England.
Books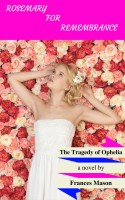 Rosemary for Remembrance:The Tragedy of Ophelia
by

Frances Mason
We all think we know Ophelia's story. Hers is a tragedy peripheral to the greater tragedy of Hamlet. But what if she were the centre? Imagine an Elsinore where identity and meaning are as fluid as water, where love and loss, life and death, past and present flow together and one woman's imagination might have the power to transform the hell of madness itself into a kind of beauty.
Frances Mason's tag cloud