Frank Emmanuel
Biography
Frank Emmanuel is a European social scientist with a multicultural background and decades of experience in studying conflict, anger, and hope. He has traveled, lived and worked in different continents, from Europe to Asia and South America. But closest to his heart is the Middle East. Here, over time, he has contacted people of many cultural and religious backgrounds. He has taught and written about Islamic movements and their dispute with the West for over thirty years before deciding to put his lessons learned and insights in fictional form. Now in his fifties, Frank is married and a father of two.
Where to find Frank Emmanuel online
Series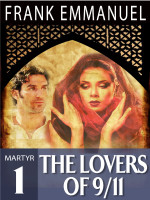 MARTYR
by

Frank Emmanuel
Middle East expert falls in love with Muslima journalist: their passionate affair ends in disaster. When they meet again, she seems transformed and sends him away. Will he find her again and bring back her erstwhile persona? Or will he, too, succumb to the demands of the ever more radical cult she has disappeared in - and whose charismatic leader desires her for himself? What started as small-scale romance grows into global threat. Highlighting courage in the face of overwhelming odds, this series mixes love and suspense with politics, religion, and eventually - terror. MARTYR is at once cross-cultural tale of romantic and political dilemma, terrorism thriller, and psychological triangle with a paranormal tinge. The epic will transport you from Amsterdam and Brussels to Lebanon, and thence to a forest castle in a secret European location. Islam, it appears, may be understood in various ways. By turns tender and terrifying, this saga incorporates decades of research on extremism and fundamentalism. In the end, is this a message of hope? Is victory worth the price?
Books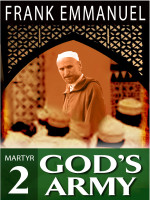 God's Army
by

Frank Emmanuel
A KIDNAP, AN ESCAPE, A CAPTURE. BUT WHERE IS NADIA? Having lost but not forgotten the love of his life, Daniel watches his daughter drift into a fanatical Islamic sect. A quirky envoy of "God's Army" tells him of the cult leader's mysterious healing: heaven is warning his followers to turn more active in spreading the Message. Surprisingly, the go-between agrees to help with rescuing the abductee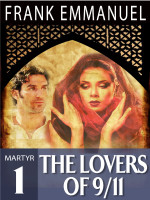 The Lovers of 9/11
by

Frank Emmanuel
Middle East expert falls in love with Muslima journalist, but their passionate affair ends in disaster. When they meet again, she seems transformed and sends him away. Will he ever find her again and bring back her erstwhile persona? Or will he, too, succumb to the demands of the cult she has disappeared in? Book 1 of series mixing romantic suspense with politics, religion and eventually - terror
Frank Emmanuel's tag cloud