Frankie Piccione
Biography
Frankie Piccione is currently earning a Bachelor of the Fine Arts degree in Creative Writing for Entertainment at Full Sail University. Frankie focuses on writing for animation and television, but also writes for film and the stage. He enjoys writing for children and families, but has been known to dabble in work for other audiences as well. Some of Frankie's favorite television shows include Thomas & Friends, Sesame Street, Teenage Mutant Ninja Turtles, Dog with a Blog, and Supergirl. Frankie looks to all of them for inspiration, depending on what type of project he's working on. In 2014, Frankie won the North Babylon High School Theater Film Studies Award for his screenplay adaptation of Washington Irving's "The Legend of Sleepy Hollow." In 2015, Frankie was the showrunner and head puppeteer on Mishaps with Mark on YouTube.
Where to find Frankie Piccione online
Books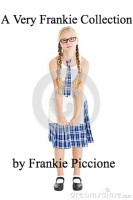 A Very Frankie Collection
by

Frankie Piccione
Price: Free!
Words: 6,830.
Language: English.
Published: April 23, 2016
. Categories:
Fiction
»
Mashups
Shia LaBeouf and schoolgirls, but not at the same time.
Frankie Piccione's tag cloud