Frank Kirtley
Biography
Born in the North East of England. In my teens heard Eric Burdon singing "We've got to get out of this place" and left on hitch hiking tour of Europe to look at buildings. Went to Manchester. Was in the university until the revolution of 1968. It was a gas! Thrown out and went to the great Architectural Association - now there's a school - in London. Couldn't make money in, nor did I fit in, architects' offices so tried other avenues. Have been an underground pipe designer, a property manager, and latterly an expert witness in delay mitigation. Had one job where my budget was a million dollars a day (I never managed to spend it. It's quite difficult, you know). Have live in 27 houses in 6 countries in 31 years of marriage. My wife tells my son, "Don't worry - your dad doesn't know what he wants to be yet".
I want to be a writer.
Books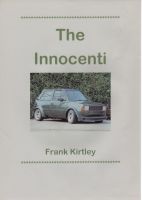 The Innocenti
by

Frank Kirtley
(5.00)
if you crave the need for an honest thriller set in spain, read on. if you like mini car chases that are not impossible, simply seat-of-your-pants, read on. if you savour pages that are steeped in a love story, read on. on the other hand if you like your heroes to be able to fly stealth bombers and catch bullets between their teeth, then throw this away. because this is the innocenti.
Frank Kirtley's tag cloud