Douglas Fritz
Biography
I was born in North Carolina, but raised in Northeast Tennessee. I grew up in Kingsport, but have lived in each of the Tri-Cities.
I have worked as a sports writer for the Johnson City Press for 31 years.
"The Missing Years" is my first novel. I plan a second book. It will either be a sequel or a new book altogether.
I am 53 years old and married to Loretta Fritz. I have three daughters. Loretta has a son and daughter.
I am thankful for God's grace in choosing me. I know daily I am not worthy of such a blessing, and it keeps me humble. I see struggling people, but I struggle, too. Anybody can make a mistake. The key is repentance and a daily battle to avoid sin.
Books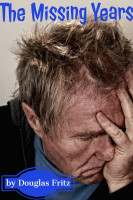 The Missing Years
by

Douglas Fritz
(5.00 from 1 review)
For the last 57 years, Murphy Riggins has been missing a basic part of his existence -- the first 18 years of his life. A terrible twist of fate left Murphy with no idea who he is, who his family is, or the place he was born and raised. Is there hope? Will his friend's invention be Murphy's ticket to a restored memory? Just who is Murphy Riggins?
Douglas Fritz's tag cloud