Funfly Design
Biography
After many years in industry, Martyn Thatcher started in 1988 what was to become a large and successful business. Following its sale in 2003, he obtained an Honours degree in Graphic Design and Interactive Media and is currently the joint proprietor of Funfly Design (with his wife). He originally researched the Kitchener poster as a degree dissertation and in 2011 published a book on the subject, he has also written on Andy Warhol. Martyn is a qualified pilot, a musician and keen golfer. His accent betrays his West Country origins and he currently lives in Cheshire.
Where to find Funfly Design online
Books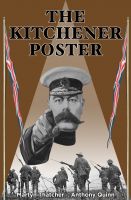 The Kitchener Poster
by

Funfly Design
The Kitchener Poster is a book about events that surrounded the famous World War One posters with the words 'Your Country Needs You' and 'Kitchener Wants You'. These images and words have remained with us as an icon of the First World War. The book is not just about the poster but offers glimpses of the Edwardian era -times so different than today.
Funfly Design's tag cloud