Don Yakov Ben Shalom
Biography
Don Yakov Ben Shalom is a retired Professional Fire Lieutenant and Paramedic and now, thank the One Above, a published author. He lives in a home that was built before the American Civil War, in a city that was established 100 years before the American Revolution and that is four minutes by foot from Temple B'nai Israel.
His lovely wife Dena is an over-achiever, his Aishes Chayil, an accomplished woman. She has her Masters in Reading Education, is contemplating a Doctorate, teaches full time, tutors part time and is also a published author, vice president of our local Toast Masters and an accomplished seamstress and award winning quilter.
He and Dena parent Don Yakov 's sons and on occasion, his daughter. When able, they travel to Florida and visit Dena's three married daughters, her three strapping sons-in-law and her very cool one and two year old grandsons, her lovely three month and 13 month old grand daughters, and three wonderful step grandkids, thank the One Above again.
Books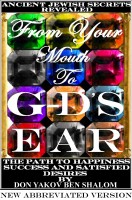 From Your Mouth To G-d's Ear, New Abbreviated Version
by

Don Yakov Ben Shalom
The New Abbreviated Version of From Your Mouth To G-d's Ear is the same as the original save for the middle and later chapters of that book dealing with Ones and Threes.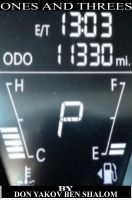 Ones and Threes
by

Don Yakov Ben Shalom
Ones and Threes is a short book that explores the odd frequency of their, Ones and Threes, arrival in every day life. At least mine. I'd love to hear if they are in yours as well.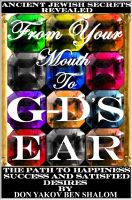 From Your Mouth To G-d's Ear
by

Don Yakov Ben Shalom
Ancient Jewish Secrets are revealed, illuminating the path to happiness, success and satisfied desires.
Don Yakov Ben Shalom's tag cloud