G. F. Kaye
Biography
G. F. Kaye lives in Grand Rapids, MI, in a lovingly restored 1839 farmhouse. The work was all done personally, including the exterior, which is shaked in the traditional New England style. This has been listed as a "dying American Art Form. The author also paints in most media, and is a neighborhood preservation activist and avid gardener. Of Eastern European descent, the author has always felt a close affinity with the soil and growing things. Writing has been a lifelong off and on affair, with serious efforts being made since 2002. The author has since completed numerous works, and is in the process of final editing them and publishing them as e-books. "I only write when I'm having fun doing it," is the author's credo. The belief is that if the author is having fun writing the works, then people will also have fun reading them. This is reflected in the author's 'tongue in cheek' style, which has been referred to as a cross between the works of John Steinbeck and Mickey Spillane.
Series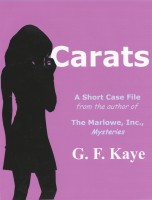 Marlowe, Inc., Mysteries
by

G. F. Kaye
It all started when a criminal from an alternate universe where magic works, and is commonly used on a day to day, triggers a translocation spell that was supposed to take him to a pre-planned hideout. Instead, he ended up here, on this mundane plane of existence. The New Yorkshire Constabulary, however, was not going to let their man get away. Enter Detective/sergeant Elise Montague, a woman in the man's world of New Scotland Yard. Arriving in this world, however, she needed someone local; someone that knew the ropes. Enter Jerome Marlowe, jaded NYPD robbery/homicide detective (ret'd). Can these two very disparate souls put aside their differences and get their man? When she 'phones home' afterward, will anyone pick up the call? These, and other questions, may be answered - sometime. For now, this mismatched pair does their very best to nab the ones that got away - all while keeping magic and alternate planes a deep, dark secret.
Books
G. F. Kaye's tag cloud