G. R. Daniels
Biography
G.R. Daniels is a pen name for the author. The author, whose first name is Gary, is a veteran journalist with many decades as a front-page reporter, editor, tv writer, tv on-air reporter, tv producer, radio producer and internet blogger and website writer.He also trains executives in media relations and functions as a crisis consultant. He has provided consulting and hands-on management of media relations during major crises affecting corporations, government bodies, institutions and individuals. Gary's books have been published in the past but he has launched another career with novels. His books deal with corporate crises with dips into his experience as a police reporter. He specializes now in novels with heavy doses of action, thrills, intrigue and complex plots. Don't worry, his writing is easy to read and every end is tied neatly but, to get to the end, you'll need to survive action and fascinating stories from this highly experienced author.
Smashwords Interview
Series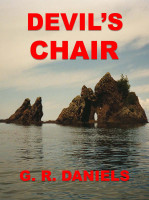 Crisis
by

G. R. Daniels
The Crisis Series by G. R. Daniels begins with The Russian Crisis; Jackson Phillips - soldier, spy and founder of a Toronto military software company - has retired to his own island but returns to save the firm after its source code has been stolen. In Crisis in the Cold, a CIA agent is killed on the ice near Jackson's cottage. This is part of war between spies, including Russian GRU soldiers who want Jackson dead. Doubled Down Deadly ups the action as Graham Carde moves away from his job as Jackson's cottage-keeper into the leading role. This time, a bayside hotel is attacked. But, why would bad guys want to ruin a great old hotel? Is the answer too big for Carde? In Devil's Chair. Carde witnesses a murder committed on Devil's Chair Island in Lake Superior. But nobody is eager to help him probe the crime. What's going on in a huge, remote, public park in Canada? And stay tuned for The Killer Crisis, another novel in this continuing adventure. A series set in the cities and countryside of Canada. There's nothing calm, peaceful and over-the-top polite here. Canada is one fascinating, sometimes dangerous place. Read the Crisis Series whether you live here or just want to visit.
Books
G. R. Daniels' tag cloud