Grant Shanks
Biography
GRANT SHANKS

Author Grant Shanks likes variety in his life. He is a competitive pistol shooter and a keen fisherman, photographer, small arms collector and cook. He writes for several magazines, particularly hunting and shooting publications and works part time in a sports shop where he specialises is fishing and hunting equipment, calling on several decades of personal experience in both areas.
Brought up on a farm deep in New Zealand's southern island, the eldest of three boys and a sister, Grant was taught to shoot, hunt and fish by his father, an expert marksman and keen hunter himself. From age 6, Grant was hunting rabbits alone with an old single-shot .22 rifle. He shot his first pig solo when he was eleven.
With the Fiordland wilderness, home of a huge deer population only a short drive away, it was only a matter of time before he turned his attention to larger game.
Grant boarded at Otago Boys' High School in Dunedin. A boxer, representative athlete, rower and rugby player, he and his brothers spent their holidays hunting and fishing the famous Southland trout rivers between tractor work, hay baling, scrub cutting and stints with shearing gangs.
After high school Grant started work at a freezing works not far from the deer country and gravitated into shooting for a living. After several years doing this, a helicopter accident killed one of his good friends in the most horrible way imaginable. On top of that he had two near misses himself in little more than a week. Shaken and stirred, he figured there was a message in there for him.
Shortly after that, he left the southern deer lands and moved north where he tried working in an advertising agency and later a record company. He soon discovered that the so-called glamour jobs paid pitifully, so he went to sea.
The trip-on, trip-off nature of life in the merchant navy meant that he could continue meat shooting between stints onboard ship. He met his first wife during this period and moved to Christchurch, her hometown. A year later they married and flew off to the UK on the great OE.
In Europe, he worked as a roadie, and later as a body guard for a band management company, looking after the likes of Slade, Mott the Hoople, David Bowie and the infamous Who. He then joined a London-based security company and remained on contract with them until he left the UK several years later. He won't elaborate further other than to say that company did work that was 'interesting' and at times not particularly legal in the eyes of the law of the day. The company specialised in getting people out of sticky situations in other countries.
Ongoing health problems involving a family member back in NZ caused Grant and his wife Irene to quit the UK and undertake the traditional overland journey home. Fate however wasn't finished with them yet. He came down with malaria (the result of an unplanned detour on a job for his former employer). The debilitating disease hit him in Afghanistan, forcing the couple to stay there much longer than planned. The up-side was that this unplanned stopover gave them time to get to know quite a few Afghanis and build up a real affection for them.
Back in New Zealand Grant entered Radio as a creative writer and voice over guy, winning many of the world's top awards for his work, including CLIO, Pater and the much-coveted Hollywood International Broadcasting Award. He also reconnected with some of his old hunting buddies and was often in the hills.
In the early 90's Grant decided to write full-time and hunt and travel, establishing a scenario whereby he spent 50% of his working time on his own writing with the rest devoted to other people's projects."
The first book of Grant's to be published was A Long Goodnight, a ghostwritten tale of New Zealand's most famous case of euthanasia. A second ghosted book, We Just Want Our Daughter To live followed. For his fiction, Grant wrote (until another author of the same name appeared on the bookshelves) under the nom de plume, Andrew Grant. All his previous books will be re-published digitally under his given name to avoid confusion with the other AG. The first fictional title, Hawks was published in 1998 and the novel, based on the helicopter deer hunting years made it onto the NZ best-seller list.
Two books of short (true) stories on the New Zealand supernatural, Where No Birds Sing and When The Wind Calls Your Name, written with former Ngai Tahu CEO and academic, Tahu Potiki, came next. Tyler's Gold, a tongue-in-cheek, rip-roaring boy's-own nautical yarn of gold and modern day pirates was published in 1999.
The Neverness Factor, a multi-genré tale set in Alaska was published as an experimental e-book in 2002 and is currently undergoing re-editing to appear later this year as, In the Shadow of the Widow.
Mesquite Smoke-Dance (2004) a police thriller set in Texas and Mexico won the Richard Webster Popular Fiction Award and is currently being promoted to US movie studios.
Death in the Kingdom (2007) was Grant's first Daniel Swann thriller and the first of his stories set in Asia. This was followed by another Swann thriller, Singapore Sling Shot (2009). A third Swann adventure to be set in Malaysia is in the pipeline.
Grant lives in Rangiora, near Christchurch, New Zealand with wife Carol. The pair enjoys a mutual love of travel and take-off around the country and overseas when funds and time allow. He still hunts the hills he loves.
Books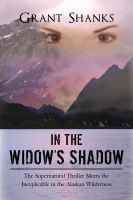 In the Widow's Shadow
by

Grant Shanks
A thriller that combines the supernatural and science fiction with a full-on wilderness adventure spiced with murder, sex and off-the wall characters including a CIA psychopath, an Indian healing woman and a host of others. Immerse yourself in total escapism and enjoy the ride.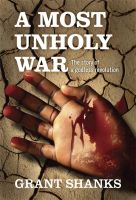 A Most Unholy War
by

Grant Shanks
Oil, minerals, poverty, a vicious, mad dictator, mercenaries, an impending revolution, and conspiracy upon conspiracy, for the prize that is the control of the African state of Dhaman. And what is the real role of disgraced former SAS Major, Malcolm Dryden?
Grant Shanks' tag cloud