Gordon Warme MD
Biography
Gordon Warme, MD, is a medical doctor specializing in psychiatry. He has been an academic at the University of Toronto for 40 years.

Born and educated in Toronto, he trained with Karl Menninger at the Menninger Clinic in the U.S. and at the Universität Heidelberg in Germany. He has been a faculty member at the Menninger Clinic, the University of Kansas, and the University of Toronto.

During his career, Dr. Warme has been the director of many programs: Kansas Treatment Center for Children; Children's Division of the Clarke Institute of Psychiatry; Psychotherapy Centre at the Clarke Institute of Psychiatry. He has held a Dozor visiting professorship at Ben-Gurion University in Israel. He is a past president of the Canadian Psychoanalytic Society, founder and past director of the Toronto Child Psychoanalytic Program, and for a number of years was senior research associate in the department of English at Trinity College, University of Toronto.

Dr. Warme has written four books: Reluctant Treasures (New York: Jason Aronson, 1994); The Psychotherapist (New York: Jason Aronson, 1996); The Cure of Folly (Toronto: ECW Press, 2003); and Daggers of the Mind: Psychiatry and the Myth of Mental Disease (Toronto: House of Anansi Press, 2006).
Books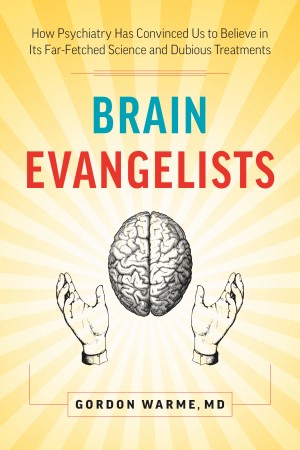 Brain Evangelists: How Psychiatry Has Convinced Us to Believe in Its Far-Fetched Science and Dubious Treatments
by

Gordon Warme MD
In Brain Evangelists, renowned psychiatrist Gordon Warme, MD, blows the whistle on modern psychiatry, arguing that, in the long history of medicine, biological and chemical "abnormalities" in psychiatric patients have never been identified, and labels such as schizophrenia and depression are misleading metaphors that dehumanize patients.
Gordon Warme MD's tag cloud