Gabrielle Blue
Biography
Cheryll Ganzel and Tessa Blue Jones are writers, sisters, best friends, and collectively write under the pen name of Gabrielle Blue. Children of the Lost Moon was a 2010 finalist in the Royal Palm Literary Awards competition.
Where to find Gabrielle Blue online
Books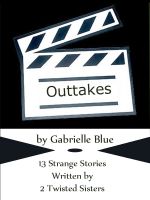 Outtakes
13 strange stories by 2 twisted sisters.
Gabrielle Blue's tag cloud