Gail B. Schwartz
Biography
Gail B. Schwartz was born and raised in Portland, Oregon. She attended the University of Oregon, majoring in music, and spent a year in their music program in Oldenburg, Germany. During that time she traveled widely in Europe. Her wonderful writing talent started showing up in the many beautiful letters she sent home. She earned a bachelor's degree in General Studies from Portland State University; and later spent a year in the music school at Hebrew University in Jerusalem. During this time she traveled around the Middle East. G.B. received her masters degree from U.C.L.A. in Ethnomusicology with a specialty in Middle Eastern music, and a minor in arts management. She worked as a grant writer; and also taught grant writing at Portland State University. G.B. lived in Los Angeles where, in addition to her business as a grant writer, she sang with a large women's choir which performed around the Los Angeles area. After 22 years in Los Angeles, G.B. returned to her native Portland. She died from cancer in 2009. Agamede was her first novel.
Books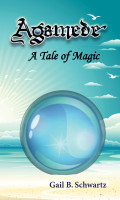 Agamede, A Tale of Magic
by

Gail B. Schwartz
When thirteen-year-old Mindy finds a fishing float on the beach in Mumbai, India, she doesn't suspect the danger and adventure that comes along with it. She soon discovers it's no ordinary float, but a magic crystal ball, and that she's been chosen to save the world from destruction and chaos. Mindy must travel alone through time and space on a quest for an ancient spell to stop an evil sorceress.
Gail B. Schwartz's tag cloud