Michael A. Espinoza
Biography
I am a writer of tales both of the fantasy variety and that of science fiction. My greatest influences are writers such as Robert E. Howard, J. R. R. Tolkien, H. P. Lovecraft, and the unknown authors who spoke the words that would one day be written down as the Norse and Icelandic Sagas. If you seek great adventure, suspenseful intrigue, and engaging, multifaceted characters, then I urge you to step into the worlds I seek to craft with my prose.
Where to find Michael A. Espinoza online
Books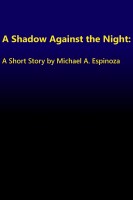 A Shadow Against the Night
by

Michael A. Espinoza
When Alfgar Blackmane--seasoned by years of adventure--is invited to visit the palatial abode of his best friend, he expects an evening of strong drinks, hearty food, and fond memories. What he in fact finds is a changed man, a mysterious woman, and a dark doom lurking in the clouds, ready to swoop down and end the life of any who stand in its path...
Michael A. Espinoza's tag cloud