Alex J. Garrett
Biography
Alex J. Garrett is a novelist and short story writer from Perth, Western Australia, specialising in science fiction and fantasy. Alex began in 2018 with "The White Wolf and the Hunter", a short story inspired by the 2013 video game The Last of Us. Taking inspiration from multiple forms of media and blending multiple genres together, Alex hopes to showcase the many sides that humanity has to offer and remind us that while we do have the devil in us, we have the angel as well and both should be heard in concert for there to be balance in us all.
Where to find Alex J. Garrett online
Books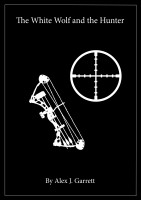 The White Wolf and The Hunter
by

Alex J. Garrett
Former soldier Xavier Black and teenage orphan Mindy travel a war-torn landscape, tracking and taking down dangerous individuals scattered throughout the land. Making use of a combined knowledge of combat and tracking, the pair are considered to be some of the best in this brutal world. But their current target might prove to be their most difficult yet, if not their most personal.
Alex J. Garrett's tag cloud