Gary Carter
Biography
Gary Carter was born in San Diego California where he attended Sweetwater High School and San Diego State University as a science major. He now lives in, and owns a small plant nursery, in Port Orford, Oregon. He is the author of Jump Start, a science fiction thriller concerning the origin of dragons, For the Good of the Many, a national award winning (MWSA) military/political thriller and Mystic Summer, a story of young love set in a bigoted and racially charged Southern California town in 1954. Gary is also the author of two poetry books with several award winners in each.
Books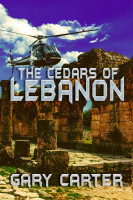 The Cedars of Lebanon
by

Gary Carter
After an all-out war in the Mideast renders that portion of the world uninhabitable and threatens to destroy the rest of Earth with its repercussions, three women are sent back in time to ancient Phoenicia and the Levant (circa 600 BC ) to collect seeds, plant cuttings, and seedlings from the now devastated area in an effort to bring them home and propagate them and restore the area.
Gary Carter's tag cloud