Gary Howarth
Biography
Having been in sales and marketing to Fortune 100 companies for over 35 years, I learned a few things along the way. One thing I learned was that if I was selling to IBM, Boeing, or the new start up down the street, they all had one thing in common: effective communication with individuals. At the end of the day, all sales are to individuals, no matter who they work for.

Even though I went to school for my MBA, I learned much more from doing. Since communication is the key to all success in life, I decided, along with my nephew, to start a video email marketing business called Vaxishub. We took a boring medium and made it interesting again.

I always had an interest in Neuro Linguistic Programming (NLP) because it is all about how we communicate and how the brain functions. I am a certified NLP Practitioner and incorporated some of the training in this book in order to provide you with a broader view of communicating.
Books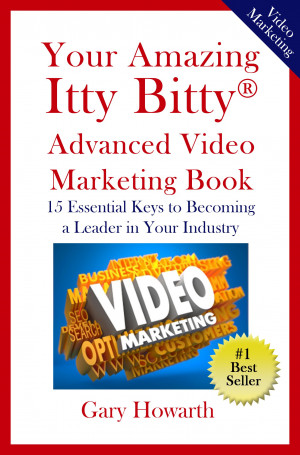 Your Amazing Itty Bitty® Advanced Video Marketing Book
by

Gary Howarth
Questions people ask: How can I get my message across clearly and effectively with video? How many different ways can I use video to establish trust and rapport with my prospects and clients? What am I going to talk about in my videos? If video marketing interests you, pick up a copy of this groundbreaking book today.
Gary Howarth's tag cloud