Gary Leeper
Biography
Since 1991, Gary Leeper of Golden Lens Photography has been working in the art of photography. Making his home in Two Harbors, Minnesota on the North Shore of Lake Superior, Gary has been able to tell the story of this unique area through his pictures. From sunrises to sunsets, from kayaks to 1,000' iron ore boats, from animal life to forested areas, from lighthouses to Lake Superior - and much more - Gary has captured spectacular images that illustrate the beauty of the area. Gary also has stunning images from the Southwest United States, the Black Hills of South Dakota, badlands of North and South Dakota and areas from Florida to Alaska.
Where to find Gary Leeper online
Books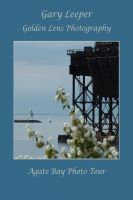 Golden Lens Photography Agate Bay Photo Tour
by

Gary Leeper
Let this eBook be your pictorial journey to the sites and seasons around Agate Bay on Lake Superior in Two Harbors, Minnesota. This book will guide you through the seasonal changes to Agate Bay where you will find a Lake Superior break wall, lighthouse, trains, hiking trails, ore boats and ore docks, a tug boat, fishing boats, kayaks, parks and much more that can be seen and experienced.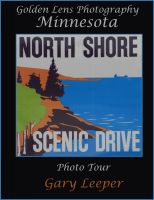 Golden Lens Photography Minnesota North Shore Scenic Drive Photo Tour
by

Gary Leeper
This book is a great reference guide to 61 locations for you in your travels up Minnesota Highway 61 on the North Shore of the Lake Superior. The North Shore of Minnesota and Lake Superior has so much to offer including 8 state parks, the Superior National Forest, the Boundary Waters Canoe Area and Lake Superior itself. Let this book be your guide to these 61 locations.
Gary Leeper's tag cloud