Gary T
Biography
GARY T is a graduate of Oklahoma State University and Dallas Theological Seminary. He has worked in the Information Technology field for over 15 years. He enjoys researching history, technology and theology. BLUE EARTH 7 is his first novella. Gary views life through the prism of Mystery, Wonder, and Awe. He is an amateur astronomer and licensed Ham Radio operator. Gary also studies the art of Sleight of Hand, a practice he picked up from a boyhood best friend who showed him his first close-up magic trick.
Where to find Gary T online
Videos
BLUE EARTH 7
Salute to the Angel of the Bizarre.
Books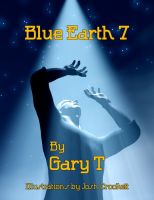 Blue Earth 7
by

Gary T
When computer tech Harry Seven encounters a bizarre tektite, he discovers the difference between nightmare and reality is only one of dimension. Harry finds himself traversing a reality far beyond the familiar 3-dimensional world of the blue planet, and all is not as it appears. Who is behind his strange visions? Are they the source of all mythology? And what is their connection to time and space.
Gary T's tag cloud